South Surrey Flower Delivery
Flat Rate Delivery – $12.50.
South Surrey BC Flower Delivery
As a South Surrey florist, we understand the South Surrey Flower Delivery is important to our clients.  We offer same day service if possible for your South Surrey Flower Delivery.  However, we prefer some advanced notice as well.  Our South Surrey florist is happy to help with individual needs as well as we offer bouquet services to businesses for resale.  Flowers are a great addition to any business as they brighten up the business as well as are a quick grab and go for your customers.  Many times, people don't think to order flowers for a "just because" occasion, however, they see them up by your register and grab up a bouquet for the road.  If you are a business owner, this is a great way to add to the bottom line. The flower bouquet is a great way to win a customer or show appreciation to him or her.  We also have a beautiful online flower store that is perfect for taking a look at our style and what we have to offer.
Cheer Someone up with a fresh cut Flower Bouquet
Flowers are a great way to cheer someone up or brighten a day.  We have a great selection of fresh cut flowers that are offered in a variety of floral arrangements ready for South Surrey Flower delivery.  If you are looking for a South Surrey flower delivery for today or another day in the future, we can help.  Our services offer same day deliveries, but we do prefer some notice if possible.  This is so we can offer the best service for your South Surrey flower delivery as possible.  Getting that arrangement just right and have it there on time is something we take pride in doing.  We want it to be perfect, enjoyable, and look and smell amazing.
We also offer floral arrangement services for larger parties as well.  Are you having a wedding, birthday party, anniversary, or another type of celebration?  We can offer South Surrey Flower delivery service where we will come to your reception hall with all the flowers and set them up in a beautiful manner.  And, we can do the wedding bouquets as well as the boutonnieres.  Or for company parties and funerals, we are there for you as well, as your South Surrey flower delivery service, we can bring beautiful arrangements wherever you are setting up.  We want your party or memorial service to look and smell it's very best with the best flowers in town. Call today 604-787-5623 to order.
Beautiful Floral Arrangements with South Surrey Flower Delivery
Getting that perfect arrangement has never been easier.  Browse our beautiful online gallery or you can ask us to do something special just for you. Maybe you have a certain flower that you love.  We can make something unique just for you.  We offer custom floral arrangements as well, just ask, we are happy to assist.
Holidays are a special time of year and why not have a real wreath or arrangement in your home.  They offer a wonderful aroma that will give that space a holiday feel.  And, Easter or Springtime tulips or springtime bulb flowers are perfect to bring the springtime feel indoors.  Those spring flowers can be quite fragrant and give off a great spring feel.
We are here for you to have fresh cut flowers delivered anywhere in South Surrey BC or the surrounding cities.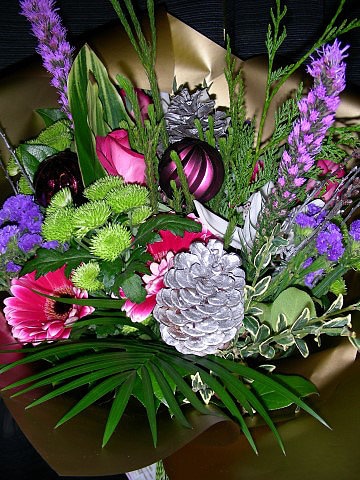 If you don't know what to get or need a great gift idea, call your Surrey BC Florist today at 604-787-5623 and let us help you.